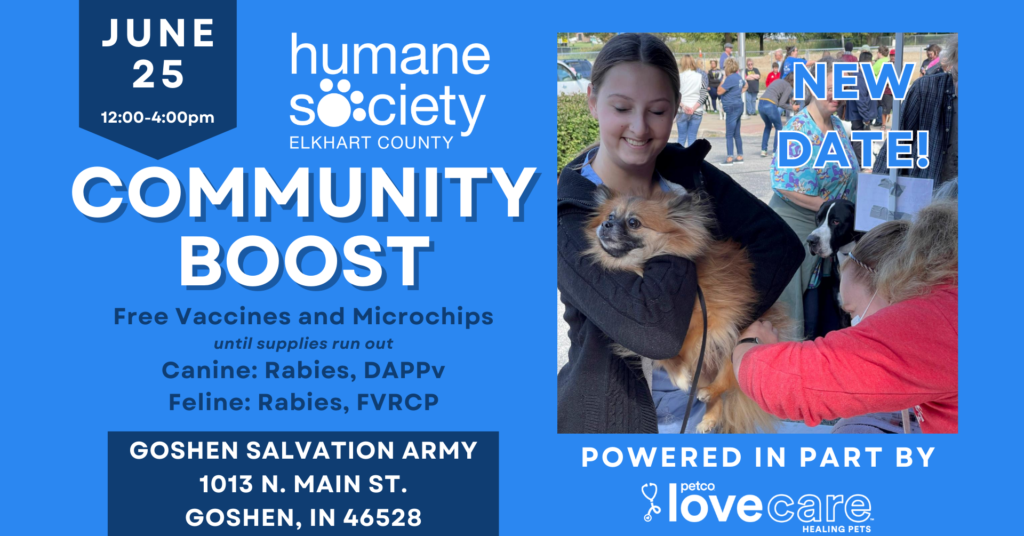 Join us for our 2nd Community Boost, providing free vaccinations and microchips to area pets!
This event is first-come, first-serve, and until supplies run out. It is open to everyone, even those outside of Elkhart County, and there is no limit to the number of animals that can be brought.
• We are offering distemper vaccinations and microchips to all pets, free of charge, on a first-come, first-served basis, from 12-4pm, or until supplies run out.
• The pet owner is required to be present at the time service is rendered, and may be required to show a photo ID.
• All dogs must be restrained by a well-fitted leash and harness/collar, or secured in a humane carrier. Leashes must not be longer than 6'.
• All cats are required to be secured in a humane carrier. No harnesses or leashes for cats will be allowed.
• Puppies, kittens, and senior pets should be handled with care to prevent the spread of illness and disease. Events like these may put young and senior pets at risk of illness. Use caution!
• Animals experiencing diarrhea, lethargy, coughing, vomiting, ocular or nasal discharge, or other potentially contagious illnesses are not permitted to attend.
• Event volunteers and staff reserve the right to refuse service if it is in the best interest of the animal, staff/volunteers, or other event attendees and their pets.
• Owners are liable for any injury, illness, or damages their pet may cause to staff/volunteers, other event attendees and their pets, and the Goshen Salvation Army.
• If your pet is reactive, or experiencing high fear, anxiety, or stress, please see a staff member or volunteer for further instructions.
• All information will be received digitally, through ShelterLuv, and an email is required. Please plan to bring a smart phone with data service to use, to make this event run more smoothly. If you do not have a smart phone or an email address, please see a staff member or volunteer.